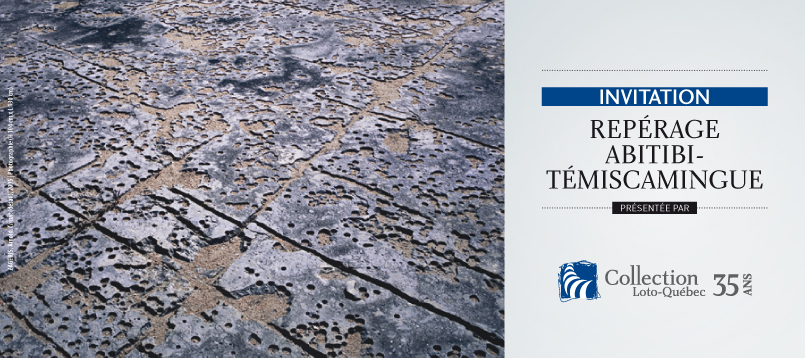 In order to promote the work of professional artists working in contemporary art and to acquire new works, the Loto-Québec Collection supports the organization of scouting exhibitions throughout Quebec. The Val-d'Or Exhibition Center was given the mandate to organize this event in Abitibi-Témiscamingue. The corpus of the exhibition, composed of 70 works, has been judiciously selected by a committee from nearly 130 works by 40 artists. The Repérage exhibition offers an exceptional panorama of visual arts creation in the region, highlighting 33 artists who stood out thanks to the quality and originality of the works  offered.
The participating artists are: Diane Auger, Jacques Baril, Nathalie Blondin, Francis Boivin, Marc Boutin, Danielle Boutin-Turgeon, Luc Boyer, Céline Brochu, Jocelyne Caron, Renee Carrier, Dyane Chevalier, Sylvie Crépeault, Élisabeth Di Méglio, Véronique Doucet, Catherine Dubé, Carole Dussault, Denise Filion, Danièle Frenette, Karine Hébert, Céline J. Dallaire, Édith Laperrière, Christian Leduc, Diane Lemieux, Lee Lovsin, Ariane Ouellet, Sebastien Ouellette, Virginie Bordeleau, Gilles Plante, Carole-Yvonne Richard , Michel Rouleau, Martine Savard, Lucie Tremblay and Chantal Vallière.
Under the chairmanship of Mr. Louis Pelletier, curator of the Loto-Québec Collection, a jury of peers will be formed to select from the works presented in the exhibition, possible acquisitions to be included in the Collection. This selection will be announced in the fall after November 23 In addition, the public will be able to vote for a preferred work, from September 26 to November 16. The work that receives the highest number of votes will allow the artist to receive a $ 200 scholarship.